At a time when our debt is soaring, you'd think fiscal responsibility would have a preeminent position in the psyche of the federal government. Furthermore, you'd presume maintaining control of aid and arms supplies in the Middle East would be of highest concern. I've seen several photos of ISIS fighters with M4 Carbines in their possession, so this story is particularly disconcerting.
As reported by the Washington Post, "The Pentagon is unable to account for more than $500 million in U.S. military aid given to Yemen, amid fears that the weaponry, aircraft and equipment is at risk of being seized by Iranian-backed rebels or al-Qaida, according to U.S. officials."
"With Yemen in turmoil and its government splintering, the Defense Department has lost its ability to monitor the whereabouts of small arms, ammunition, night-vision goggles, patrol boats, vehicles and other supplies donated by the United States. The situation has grown worse since the United States closed its embassy in Sanaa, the capital, last month and withdrew many of its military advisers."
Sadly, when you consider what happened in Syria with weapons given to "moderate rebels" and the same occurred in Libya – which we reported last year— when Special Operations weapons and sensitive items were abandoned. And we know of the early "bug out" of the Iraqi Army against ISIS resulting in their capture of American weapons and armaments.
Some say these Islamists won't be able to maintain these weapons, but don't be fooled. There are enough arms dealers who can supply ammunition, and maybe even some spare parts. Unfortunately, this is an unintended consequence of outsourcing your national security without having a long-term strategy.
Someone should have asked a really simple question: what happens if we abandon Libya and Yemen? How do we ensure military weaponry and sensitive items such as night vision devices are not compromised? Seems like no one considered that.
The Washington Post writes, "We have to assume it's completely compromised and gone," said a legislative aide on Capitol Hill who spoke on the condition of anonymity because of the sensitivity of the matter. U.S. military officials declined to comment for the record. A defense official, speaking on the condition of anonymity under ground rules set by the Pentagon, said there was no hard evidence that U.S. arms or equipment had been looted or confiscated. But the official acknowledged that the Pentagon had lost track of the items."
Here's what's missing. Yikes!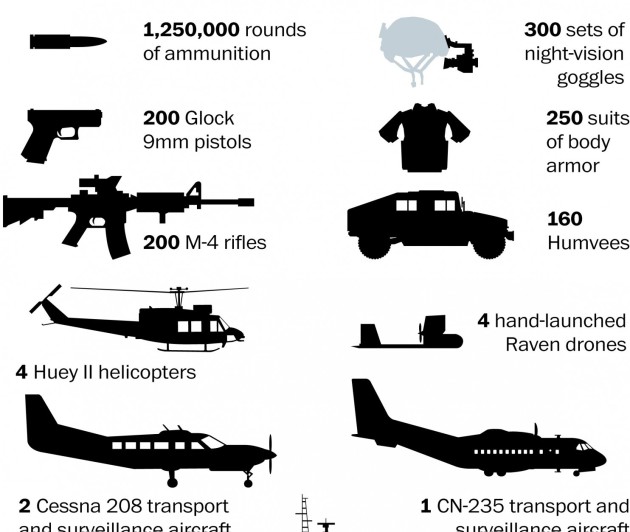 "In Yemen and elsewhere, the Obama administration has pursued a strategy of training and equipping foreign militaries to quell insurgencies and defeat networks affiliated with al-Qaeda. That strategy has helped to avert the deployment of large numbers of U.S. forces, but it has also met with repeated challenges."
And remember it was just last fall that President Obama touted Yemen as a success story of his "counter-terrorist" strategy.
"Washington has supplied more than $500 million in military aid to Yemen since 2007 under an array of Defense Department and State Department programs. The Pentagon and CIA have provided additional assistance through classified programs, making it difficult to know exactly how much Yemen has received in total."
Now, I'm sure detractors will accuse yours truly of warmongering or being a part of a "warfare" state, but this is obviously not working. And you have to ask, wouldn't it be a better investment to support the Kurdish Regional Government with these weapons and items, especially since they've clearly proven their tenacity and trustworthiness? And how come we're not providing the weapons support to Egypt, and the munitions and fuel requested by Jordan? Yes, these are very puzzling questions.
And if we restructured our military force into highly lethal, capable, and deployable strike operations task forces, we could conduct near-simultaneous operations to deny Islamic terrorists and jihadists sanctuary — regardless of their sect affiliation. What we clearly do not need is a proliferation of U.S. arms and materiel supporting the global jihad — there are enough arms dealers out there already.