Western governments to coordinate attack on free speech
The Charlie Hebdo unity march in Paris served as a backdrop on Sunday for interior ministers who demand more internet surveillance.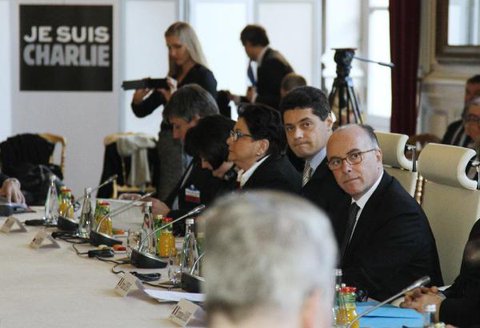 Yahoo News @YahooNews
We forcefully noted the need for greater cooperation with Internet companies to guarantee the reporting and removal of illegal content, particularly content that makes apologies for terrorism or promotes violence or hate," said French Interior Minister Bernard Cazeneuve.
US and EU bureaucrats gathered at the French interior ministry to formulate a response to the Islamic State, al-Qaeda and other jihadist groups, many supported, trained and financed by the Gulf emirates, Turkey, western intelligence and the U.S. military.
The meeting in France will be followed by a "security summit" to be held in Washington next month.
"We will bring together all of our allies to discuss ways in which we can counteract this violent extremism that exists around the world," said Attorney General Eric Holder.
The Paris attack will be used to impose new and more draconian legislation over free speech and the right to communicate without interference by the state.
"France's police state apparatus is one of the continent's toughest. Article 13 of its 2014-19 defense appropriation legislation permits monitoring, collecting and maintaining Internet user data," writes Stephen Lendman.
The legislation requires ISPs and web sites to provide government with information on users' activities and authorizes surveillance by the state.
Britain, often cited as the incubator for police state activity in the West, leads the way.
In 2005 it imposed the Prevention of Terrorism Act which did away with long standing legal protections. The legislation permits arbitrary house arrest, prohibitions against free association, and bans on electronic communication.
In September, the British Home Secretary Theresa May criticized Parliament the "torpedoing" of a so-called snooper's charter communications data bill that would outlaw speech the state considers "poisonous hatred." May specifically cited the Islamic State when she argued in favor of the the legislation.
In addition to addressing the purported threat of Islamic speech, the law would also confront "all forms of extremism' including neo-Nazism," according to The Guardian, and focus on the "culture of bullying and intimidation" in British schools.