Ministers pushed Lockerbie treaty 'to protect oil interests'
MPs say ministers overlooked human rights in rush to seal deal
• Clinton: It would be absolutely wrong to release Megrah
Nicholas Watt
and
Julian Borger
guardian.co.uk, Wednesday 19 August 2009 06.18 BMT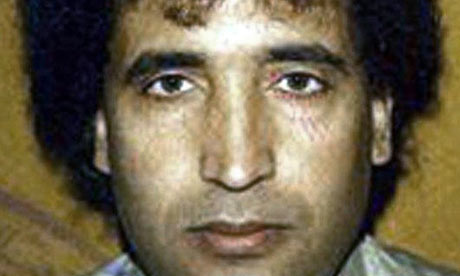 Gordon Brown has been accused of rushing through the ratification of a treaty with Tripoli that could pave the way for the repatriation of the Lockerbie bomber as part of a British push to protect oil interests in Libya.
Amid signs that a decision on the release of Abdelbaset al-Megrahi could be made within days, senior MPs and peers said ministers in London had overlooked human rights in their haste to ratify the agreement.
Kenny MacAskill, the Scottish justice secretary, is poised to decide whether Megrahi, who has terminal prostate cancer, should be allowed to return home on compassionate grounds. The former Libyan intelligence agent, 57, is serving a life sentence with a minimum term of 27 years after being convicted in 2001 of the bombing of Pan Am flight 103, which killed 270 people.
Overnight, the US secretary of state, Hillary Clinton, also piled more pressure on the Scottish government saying it would be "absolutely wrong" to release Megrahi, adding: "We are still encouraging the Scottish authorities not to do so and we hope that they will not."
Clinton has already called MacAskill to say Megrahi should serve out his sentence in Scotland.
After the bomber's appeal hearing, she told US reporters: "I just think it is absolutely wrong to release someone who has been imprisoned based on the evidence about his involvement in such a horrendous crime."
Yesterday, three judges at the high court in Edinburgh accepted an application by Megrahi to drop his second appeal against his conviction. The bomber's move has fuelled speculation that he has brokered a deal with the Scottish authorities to clear the way for his return home.
A spokeswoman for MacAskill said that the justice secretary had not yet made a decision and that he could still decide to keep Megrahi in his specially built cell in Greenock prison. Should MacAskill decide to allow Megrahi to return to Libya, he would leave in one of two ways:
• Released into the care of his family on compassionate grounds under existing Scottish law;
• Transferred to a Libyan prison under the terms of the Prisoner Transfer Agreement, signed by Britain and Libya last November and formally ratified on 29 April this year. Currently, this option is seen as unlikely because a Crown appeal against his sentence remains outstanding.
MPs and peers on the joint human rights committee have said they had been denied the chance by the government to scrutinise the treaty properly after ministers rushed through the measure in a bid to protect business interests in Libya.
Jack Straw, the justice secretary, told the committee in a letter on 12 March: "Both the foreign secretary and I believe, in the interests of our judicial and wider bilateral relations with Libya, it is important to ratify... a delay beyond April is likely to lead to serious questions on the part of Libya in regards to our willingness to conclude these agreements."
In a sharply worded response, the committee said: "We... regret that we have been unable to publish a substantive report on the treaty before Easter and, therefore, before ratification."
Andrew Dismore, the Labour chairman of the committee, said the treaty was rushed through to pave the way for the release of Megrahi.
Committee members said the government was keen to protect British business interests. Richard Shepherd, a Conservative member, told the Guardian: "We clearly have an interest because of the discovery of even vaster energy resources. Governments are always juggling that. But that is no reason for us not to scrutinise and see whether a piece of legislation is appropriate."
The Earl of Onslow, another Tory member, said: "This is not a good way to deal with matters of justice. One shouldn't allow whether one has a right to drill for oil in the Gulf of Sidra to have any influence on what is essentially a criminal matter."
In recent years, the government has faced criticism for turning a blind eye to human rights abuses in Libya after Tony Blair formally ended Colonel Muammar Gaddafi's pariah status in March 2004, when he visited the Libyan leader in his tent on the outskirts of Tripoli. Blair made the trip months after Gaddafi announced that he was abandoning Libya's programme to develop weapons of mass destruction.
In the years since Blair's visit, Britain has built extensive business interests with Libya. The Duke of York has made two official visits to Libya over the past two years in his role as Britain's special representative for international trade and investment, as well as what Buckingham Palace described as a "small number" of private visits.
Sir Richard Dalton, a former British ambassador to Libya, warned that relations would be damaged if Megrahi were allowed to die in prison. But he added: "I think people who try to say [the Megrahi case] is part of an unseemly rush for contract favours are absolutely wrong. This is first and last a judicial matter."