Kurt Nimmo
Infowars.com
Prior to the election, Infowars.com warned that Obama, his Democrat allies and the internationalist gun-grabbers would move their agenda to disarm America forward if Obama was reappointed on November 6.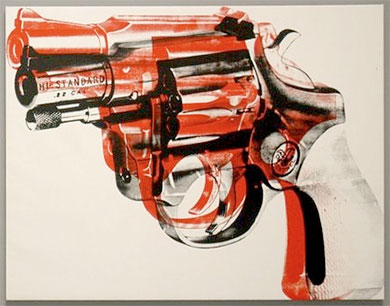 Andy Warhol.
"Less than 24 hours after winning re-election, President Barack Obama's administration joined with China, France, Germany and the United Kingdom, and more than 150 other governments, in supporting renewed debate on the proposed United Nations Arms Trade Treaty, confirming the worst fears of the American gun rights community," the Second Amendment Foundation reported on Wednesday.
"U.N. delegates and gun control activists have complained that talks collapsed in July largely because Obama feared attacks from Republican rival Mitt Romney if his administration was seen as supporting the pact, a charge Washington denies," the New York Times reported the same day.
157 governments at the United Nations General Assembly's First Committee on Disarmament in New York on Wednesday voted to disarm citizens. The measure now goes to the 193-nation General Assembly for a formal vote where it is expected to pass.
"MPs and PGA [globalist Parliamentarians for Global Action] legislators all around the world, as well as many of the colleagues with whom we work, are deeply committed to making the ATT [Arms Trade Treaty] a meaningful reality in the near future," PGA president and New Zealand Member of Parliament Ross Robertson said.
"We want a strong ATT and we want it soon. We will move heaven and earth to see that, once it is in place, it is signed, ratified and implemented in all our countries as soon as possible," he added.
A gun buy boom followed the election as millions of Americans went out and stocked up on firearms and ammo, fearing the inevitable.
"People are definitely scared of a president who has voted when he was a senator against guns," Anthony Bouchard, director of the Wyoming Gun Owners Association in Cheyenne told the Wyoming Star Tribune. "[If Obama gets re-elected] he's in a lame-duck session and he can do the things he wants to do. That's what we're afraid of."
Obama's record as an aggressive gun-grabber is clear and during his second term he will have little to fear from defenders of the Second Amendment.
"Don't forget that an Illinois senator named Barack Obama was an aggressive advocate for expanding gun control laws, and even voted against legislation giving gun owners an affirmative defense when they use firearms to defend themselves and their families against home invaders and burglars," writes Larry Bell for Forbes. "That was after he served on a 10-member board of directors of the radically activist anti-gun Joyce Foundation in Chicago which contributed large grants to anti-Second Amendment organizations."