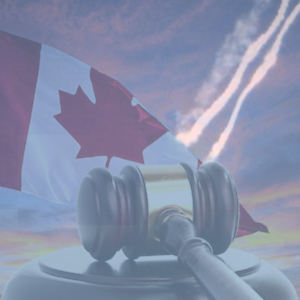 An historic lawsuit has been filed in Canada in an effort to expose and halt the practise of chemtrails being sprayed into the atmosphere.
The suit claims that the Canadian and US governments are conducting a geoengineering program that aims to spray toxic substances and particles into the atmosphere – endangering the lives of millions of citizens.
Geoengineeringwatch.org reports:
Legal action has been filed and is now underway in Canada that will greatly assist with the global effort to expose and halt the ongoing climate engineering assault against the planet and the entire web of life. For over a yearGeoengineeringWatch.org has been communicating with and forwarding data to Canadian attorneys (in addition to the US team of attorneys we are working with) in the effort to get legal action in motion. This effort has now reached fruition, Geoengineering Watch wishes to express our most sincere gratitude to the attorneys in Canada (and the US attorneys) for their diligent and ongoing work in this most critical battle. Excerpts from the Canadian legal filing are below.
The efforts toward legal action in the US are also pressing forward as rapidly as possible, we hope to have initiation of the US filing underway in the next few weeks. Support for the non profit "Stop Geoengineering Legal Defense Fund" is critical in order to keep the legal efforts moving forward. Our legal efforts are not affiliated with any other groups, organizations, or websites. Though the forward momentum of the legal efforts are extremely important and valuable to the cause of exposing and halting climate engineering, it is imperative for activists in the field to understand and remember that the front line grassroots awareness raising efforts are still critically important, now more than ever. Exposure of the legal effort needs to be circulated as widely as possible. This will assist with alerting activists and the public to the ongoing court proceedings which will hopefully help with producing mass public attendance at such proceedings. Reaching a critical mass of awareness on the geoengineering issue is the great imperative of our time, all are needed in this effort. Waking the still sleeping masses to the ongoing atmospheric aerosol assault MUST BE our TOP PRIORITY, please, help us in this all important battle to sound the alarm.
The first PDF file contains the full "Statement of Claim"
The second PDF file below contains the "Submission Confirmation"
The third PDF file below contains the "Claim – T-431-16"
May be freely reprinted, so long as the text is unaltered, all hyperlinks are left intact, and credit for the article is prominently given togeoengineeringwatch.org and the article's author with a hyperlink back to the original story.