Text amended amidst concern over first confirmed case in America
PAUL JOSEPH WATSON
infowars.com
The Public Health Agency of Canada has deleted information from its official website which indicated that the "airborne spread" of Ebola was strongly suspected by health authorities, amidst efforts by officials in Texas to calm concerns about the first outbreak of the virus in America.
The image below shows the original Public Health Agency of Canada website's information page on the Ebola virus as it appeared on August 20th compared to how it appears now.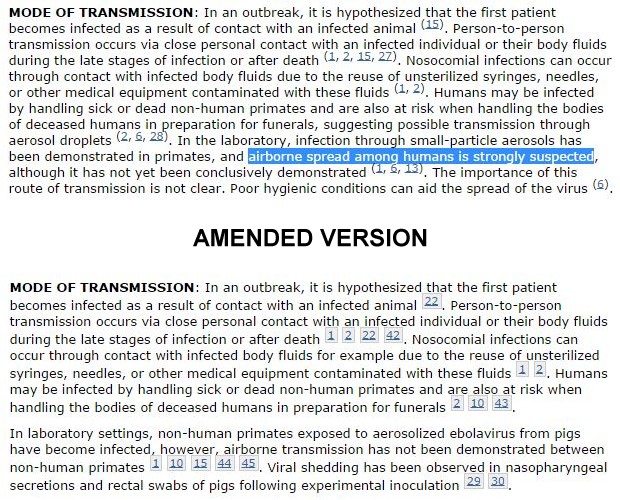 Under a section entitled "mode of transmission," the original text stated that, "airborne spread among humans is strongly suspected, although it has not yet been conclusively demonstrated."
However, the amended text states that, "airborne transmission has not been demonstrated between non-human primates."
Both passages refer to a 2012 study by Canadian scientists which indicated that the Ebola virus could be transmitted by air between different species.
"Researchers from the Canadian Food Inspection Agency and the country's Public Health Agency have shown that pigs infected with this form of Ebola can pass the disease on to macaques without any direct contact between the species," reported BBC News.
Although there is no confirmation that Ebola has gone airborne, Michael T. Osterholm, director of the Center for Infectious Disease Research and Policy at the University of Minnesota, acknowledged in a recent New York Times op-ed that virologists are "loath to discuss openly but are definitely considering in private" the possibility that Ebola has gone airborne.
Some have questioned why hundreds of health workers have become sick and died from Ebola given that they take extreme precautions to avoid bodily contact with victims.