Aaron Dykes
Infowars.com
The War on Americanism is moving forward again, not on some foreign battlefield, but in quiet neighborhoods in cities across the nation.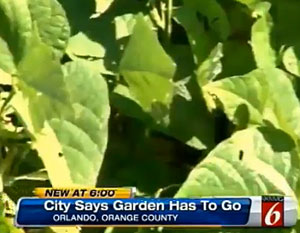 The City of Orlando is demanding that Jason Helvingston eradicate the vegetable garden planted in his front yard so that it can meet their code, which WKMG Local 6 says requires a "finished appearance," in other words, a plain lawn covered in ordinary grass.
It is a matter of perceived property value versus that of property rights, the latter of which is clearly under attack.
Helvingston hasn't given up. He told the city, 'You'll take my house before you take my vegetable garden.'
His neighbors say they like the 25 x 25 foot garden and are lobbying the city to change course. Helvingston has collected over 200 signatures from his community expressing support for the garden, and demanding that the city change its decision.
Resident Shelly Snow told cameras, "(I'm) definitely not bothered by it. As a matter of fact, we love it."
Helvingston is scheduled to go before the city council next month to argue the matter.
Meanwhile, other local residents are fighting back on the issue as well, demanding citizens lobby the mayor to change the code:
But the real issue goes far beyond one man or one locale. In the age of centralized, factory farming dominance and GMO prevalence, self-sufficiency, home gardens, raw milk and independence itself have become threats against the establishment. There have been hundreds of notable cases, many of which have sparked media attention.
The case of Julie Bass in Michigan became a shot heard 'round the world after she was threatened with 93 days in jail for her front yard garden. After Bass defied the city's demands and a storm of outrage circulated across the Internet, the charges were eventually dropped.
Denise Morrison in Tulsa, Oklahoma sued after the city cut down her garden, planted in both her front and back yards, which grew more than 100 varieties of edible plants. Despite the fact that the woman met with city officials and was technically within the city's code, which only prevent non-edible plants above 12 inches in height, the Tulsa demand that everything go. It even included several trees, targeted because they produced fruits and nuts.
The USDA, who have repeatedly demonstrated their alliance with GMO and monoculture interests, were caught trying to register and track home gardens and small-scale farming in Utah, perhaps the leading state in self-sufficiency.
Canada has enacted similar policies, with towns in Quebec trying to ban all front yard gardens and impose fines, while the City of Toronto dug up a people's garden planted in a parkland.
Raw milk and other traditional foods have been likewise targeted in the U.S., U.K., Canada and many other places. Unlicensed lemonade stands run by children have been shut down and deemed illegal. Preppers have been identified as potential terrorists. The world has been turned upside down.
In World War II, Americans were encouraged to grow their own "victory gardens" by the government as a symbol of independence and as a practical matter to feed the country while shifting other resources towards the war effort. Today, a new kind of victory garden is an important symbol of the continuing spirit of independence in an era were any form of self-sufficiency is considered a blow to corporate profits and the dependent vision of big government. Viva home gardens! May more take root across the realm!